'Free From' Skincare Product News
March
Following hot on the heels of their brand new Watermelon Range - launched in January, and featuring shampoo, conditioner and Shower Gel & Foam Bath - Faith in Nature have now launched a new, natural intensive conditioner made with 100% natural oils, including avocado and jojoba. Designed to help repair dry, damaged and colour-treated hair, the conditioner is available in Coconut, or Lavender and Geranium, priced at a very reasonable £6.50 for 250ml. Both are free from SLS / SLES, parabens, artificial colours and artificial fragrances. Find them both on the Faith in Nature site.
December
Rossi Uvema is a new natural skincare brand made using "100% of the purest natural ingredients". Products include Rice Bran and Borage Seed Face Cleansing Oil (£14.75, 100ml), part of their Hydrating Range, and Seabuckthorn and Hyssop Face Moisturiser (£19.95, 50ml), part of their Sensitive Range. Free from parabens, sulphates, petro-chemicals, PEGs, phthalates, artificial fragrances, any animal ingredients, plastic fillers or other synthetic chemicals. Also stocked by Love Lula.
September
A natural and organic skincare brand – JR Naturorganics – has launched its products and website. The products are handmade in England, with Soil Association-certified organic ingredients, which are free from animal-derived products, synthetic ingredients, SLS/SLES, parabens, phthalates, silicones, gluten, dairy and peanuts. The launch range is Mandarin and Chamomile, featuring Gentle Cleansing Milk (£21), Hydrating Facial Mist (£21) and Balancing Moisturiser (£22).
---
July
Hygienic hands are the order of the day with Neal's Yard Remedies thanks to the launch of their new Organic Defence Hand Spray (£6.50, 50ml). It boasts a pure blend of essential oils - including nialou, vetiver and lemongrass - with soothing witch hazel water to naturally purify and protect hands.
Green Energy Organics is a Mediterranean-inspired skincare range, newly available via the Millabaci online store, which uses the evolving science of plant stem cells, and includes a number of 'home spa' clay-based products and some natural suncare for children and adults, which are confirmed gluten free. Other products include body oils, fragrance, men's grooming, cleansers, moisturisers and serums.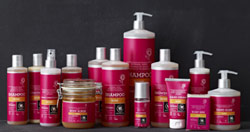 The Urtekram range has been relaunched in the UK and reformulated to bring it in line with the the COSMOS regulations and improve the efficacy of the products. Their organic range includes shampoos, conditioners, body lotions, shower gels, soaps, scrubs, deodorants, hand creams and toothpastes. The entire range is free from parabens, synthetic ingredients and colourings.
---
May
Newly launched ManOrganic - from the team who brought us LoveLula - calls itself the "World's first online destination dedicated to natural grooming products for men" - and stocks a number of brands which have a history of performing well in our own FreeFrom Skincare Awards, such as Barefoot Botanicals, Green People, Lavera, Moa Balm and Lyonsleaf. All products for sale are free from parabens and SLS.
---
April
French natural and organic skincare company Melvita have just launched their L'Or Rose Firming Oil (£30, 100ml), which boasts sea buckthorn, pepper and rose, to help tone and smoothe dimpled skin.
---
March
JASON have launched a trio of coconut-inspired products - Smoothing Coconut Body Wash, Smoothing Coconut Hand and Body Lotion, and Smoothing Coconut Oil - which are all available from the JASON site. JASON uses unrefined coconut oil, extracted naturally, without the use of extreme heat. Products are free from parabens, SLS, petrolatum, phthalates, or synthetic colours or fragrances.
---
February
Faith in Nature, celebrating 40 years in the business of natural and 'free from' skincare, have launched a new range for men, consisting of shower gel, soap and shampoo, in two flavours - blue cedar, and ginger and lime.They have also introduced a quartet of fragrance free products - including shampoo, conditioner, shower gel and hand and body lotion.
'Elements' is a new natural skincare range for men, which is Soil Association-certified, and which was launched in the second half of last year - but which we've only just learned about! Each of the four products contains at least 75% organic ingredients: Moisturiser (£22, 50ml) contains soya oil; Shaving Cream (£18, 150ml); Face Scrub (£20, 100ml) contains jojoba beads; and Face Wash (£16, 100ml) is made with natural liquid soap, derived from organic sunflower and coconut oils. For more information click here.

Spiezia is launching a new trio of products - a 98% organic hair and body product range consisting of Organic Gloss Shampoo (with the curious sounding zizyphus joazario bark extract), Organic Shine Conditioner (with ginger oil and royal jelly) and Organic Hand & Body Cleanser (with radish oil and lemongrass oil). For further information see the Spiezia site here. NB. The launch, originally planned for February, is now scheduled for April.
---
January
The number thirteen may be unlucky for some, but not for skincare lovers … as Beyond Organic Skincare have launched a Beyond Naturals range, with 13 new products, 3 of which (a treatment gel, a toner and a cleanser) are for acne-prone skin. Botanical extracts featured in the products include aloe vera, ginkgo biloba, ginseng, cucumber and chamomile. They are free from synthetic chemicals, animal products, parabens and SLS. Learn more about the products here.
Native Unearthed is a new unisex eco-ethical deodorant which is 100% potassium alum - a naturally occurring and anti-microbial mineral - and which works by inhibiting the growth of odour-causing bacteria. It's vegan friendly and free from all other ingredients, including fragrances, making it an excellent allergy-friendly option and good for sensitive under-arm skin. £5.49 for 100g. Click here for their site.
---
December
Lots of new Christmas gift products have launched – check in to our dedicated Christmas page here.
---
November
Vegusto - previous winners in our FreeFrom Food Awards, for one of their vegan cheeses, for which they are usually known - is now stocking vegan beauty products. These are mainly by Beauty Without Cruelty, but a few others too. Click here to learn more.
---
One of the most respected brands on the 'free from' skincare block, Neal's Yard Remedies, have launched their new Frankincense Intense Concentrate (£65), described as a 'silky, gel-like' product to deliver age-defying results. It boasts FairWild frankincense, gardenia stem cells and nourishing argan oils. Click here to purchase on the NYR site.
---
Inner-Soul Organics have just launched a limited edition Nordic Bliss Hand and Body Salve (£25.50, 250ml), which is available exclusively at LoveLula.com until the 1st January only. It contains certified organic Scandinavian berry extracts, plus rosehip, coconut and starflower extracts.
---
Multiple FreeFrom Skincare Award-medalling brand Green People have launched a new Enrich & Enhance Lip Primer, as a natural, colourless base to wear under your usual natural lipstick. It is blended with beeswax and carnauba, plus sunflower and castor seed oils, and is priced at £12.95. Click here to learn more from the GP site.
---
October
Opulentia Organics have launched three new lip balms: Lavender & Oat, Rose Geranium & Rosehip, and Peppermint & Avocado. Priced at £8.99, they use only cocoa and coconut butters, beeswax and various oils to protect lips naturally. Free from, amongst many other things, mineral oil/petrolatum, parabens, PEGs, artificial fragrances and perfumes, colours, lanolin and MI. Further details can be found at www.opulentiaorganics.co.uk
---
The new City Nights Collection from jane iredale – THE SKIN CARE MAKEUP. Includes the Celebrate Limited Edition Eye Shadow Trio Palette (£35), the Jelly Jar Gel Eyeliners in Purple, a matte deep violet and Green, a shimmery golden olive (£19.95), the PureMoist Lipstick in Katerina (£19) and the PureGloss Lip Gloss in Kir Royale (£19.95). www.janeiredale.co.uk
---
September
Mel Millis has unveiled four facial products: Phytonutri Qi Plankton Skin Remedy cleanser, a Phytonutri Qi Energising MM Face Peel, moisturising Phytonutri Qi Enriching Sea Plant Jelly and an oil serum, the Phytonutri Qi Enhancing Arctic Essence – which make up the new Phytonutrient Qi range. For more information see www.melmillis.co.uk. Every Mel Millis product is alcohol-free, made in the UK and cruelty-free.
---
Blue Labelle have launched their new Biologique facial and cleansing oil line which is 100% organic. Moringa & Raspberry Seed Face Oil (£22/£9, 30ml/10ml) balances oiliness, nourishes dryness. Marula & Amaranth Face Oil (£22/£9, 30ml/10ml) is for sensitive skin, and is designed to nourish and protect. Argan & Sea Buckthorn Face Oil (£24/£10, 30ml/10ml) is an antioxidant-rich blend that has been formulated to rejuvenate skin. Petitgrain & Tamanu Cleansing Oil (£28/£17, 100ml/50ml) is for normal to oily skin. It breaks down make-up and dirt with ease, whilst also nourishing the skin. Chamomile & Avocado Cleansing Oil (£28/£17, 100ml/50ml) is for dry or sensitive skin – and is powerful enough to remove even waterproof mascara. See www.bluelabelle.com/shop
---
Skin Antioxidant is a new one-a-day capsule which helps to protect your skin from the inside, keeping it looking smoother for longer. It is formulated with a multitude of super-hero nutrients found in plants, such as lutein (found in green vegetables), curcumin (found in turmeric), beta-carotene, bilberry extract, lycopene (from tomatoes) and green tea extract. Skin Antioxidant is available separately (£29.95, 60 capsules), but can also be found in a new duo-pack called Skin Complete (£45), which pairs Skin Antioxidant with Advanced Nutrition Programme's vitamin A and D focused Skin Vit A+ supplement, and a Skin Antioxidant Mini travel size (£9, 14 capsules). Free from dairy products, yeast, artificial colourings or flavourings, wheat or gluten containing ingredients and suitable for vegetarians. See www.advancednutritionprogramme.com
---
Natural Products Show Europe 2014 – a round up of new skincare products
Natural Products Show Europe 2013 – a round up of new skincare products
Natural Products Show Europe 2012 – a round up of new skincare products
Return to New Tried and Tested Products
Return to FreeFrom Personal and Skincare Home