Tried and Tested Skincare Products
Bathe-Away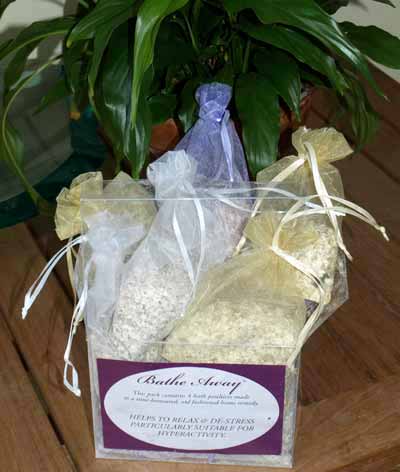 These pretty organza bags filled with organic oats, parsley, chamomile and dried goats milk release their creamy smoothness into your bathwater to comfort dry, itchy skin. Handmade to a traditional home remedy for eczema. Each bag can be used 3 times and is suitable for babies, children and adults.
There are four bags to choose from:
traditional remedy for sore and itchy skin
naturally anti-inflammatory
calming and soothing
gentle and moisturising
In the words of a new breastfeeding mother: "I had a bath using the Bathe-Away Sore Areas last night, and have woken up with very comfy boobs and VERY soft skin. The bags have definitely had a gentling affect. Delicious."
Bathe-Away organic bath bags, 200g, £6.99
Bathe-Away products are available online at www.allergybestbuys.co.uk
Back to personal and skin care home