Tried and Tested Skincare Products
Products for Persistent Cradle Cap
Yvette Johnson's children have all suffered from ongoing issues with cradle cap. Keen to try some natural skincare products for the problem, she and her 'guinea piglet' Amber tried eight on the market. Here Yvette details how they got on.
Most women, when they have a baby, know to expect a patch of dry skin here or the odd milk spot there on their otherwise perfect newborn child. Even cradle cap on newborns, they say, should disappear after a few weeks or, at the most, last a year. However, with all three of my children this has definitely not been the case.
My eldest, Alex, suffered severely with persistent cradle cap and at one point it crept down his forehead making him look like a scaly snake, certainly not the perfect picture of a newborn. We tried everything to get rid of the horrid yellow crusty patches on his scalp including dousing his hair in olive oil and changing brands of shampoo, all to no avail. Our second child, Morgan, born just over three years later, again suffered with the same problem, so I took advice from my health visitor and GP. Both advised regular hair washing and brushing with a soft bristled brush. What was I doing wrong? Why wasn't any of this 'advice' working? By the time Alex started school it had just about gone of its own accord, but surely not everyone's child was riddled with cradle cap until they started school?
With our third child, I knew very early in the pregnancy that I wouldn't allow cradle cap to rule our bath time routine any more. At 19 months old, Amber still has cradle cap. But after being asked "Has she still got cradle cap at this age?" for the umpteenth time, I decided to try out some natural products specifically designed for the problem.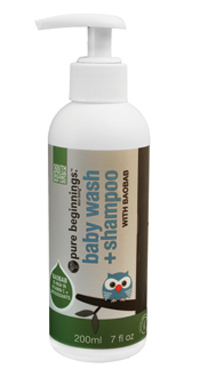 Initially, we tried Pure Beginnings Baby Wash & Shampoo (£7.50, 200ml), as Amber loves 'helping' to lather herself up in the shower and thought this would be a good option to let her get involved. Despite smelling quite strongly of lavender and rosemary, this wash was very soothing on Amber's skin, however while it reduced the cradle cap it didn't clear it for good. However, she is sometimes prone to dry skin on her legs and it seemed to clear this up! So, while not wholly successful at treating the cradle cap, it was a real winner for easily irritated skin.
Next we went for Weleda's Baby Calendula Oil (£9.95, 200ml). The smell of this product is lovely. A tiny amount of this oil goes a very long way, so is excellent value for money. The oil absorbs well and certainly much better than the olive oil we tried originally. However, even with this oil absorbing well, Amber looked like I had dunked her in a vat of chip fat! This probably isn't too much of a problem for parents of newborns as they usually have much shorter hair, but when dealing with persistent cradle cap in toddlers, they tend to have longer hair, which, when covered in oil-based products doesn't really look that cute, and makes me look like I am a parent who doesn't care to wash her child!
We had the exact same 'oily' problem with the Organic Monkey Rock the Cradle Organic Cradle Cap Oil (£7.50, 30ml). It wasn't very easily absorbed and the smell was quite strong, but definitely not nasty or off putting. Amber loved the little monkey on the cute packaging though!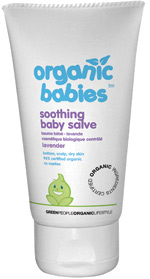 Next we went for the Green People's Organic Babies Soothing Baby Salve (£10.50, 100ml). I expected this product to be more like a lotion or cream. After initially squeezing the salve out and it visually confirming what I expected, I was quite surprised that it felt quite grainy and then it turned into an oil. So, the previous problem of very greasy hair still remained. The smell of lavender was lovely, though, and not too over-powering. I found that after being unused for a while, the product needed a good shake, otherwise it came out as pure oil rather than in the form of a salve. We persevered for a while with this and found it made a small improvement to the cradle cap.
Next, I decided to try something not specifically designed for babies or for children and went for Kiwiherb Organic New Zealand Calendula Ointment (£10.99, 30g). This product was quite thick to apply and again very oily, but also, Amber really did not like the smell of this one at all. I can understand why this was as the smell wasn't something I'd want in my hair either. I'd mainly been attracted to this one due the very basic ingredients, but perhaps a slight fragrance added may have been more to Amber's liking, though I know adding fragrance can introduce extra potential allergens into the mix.
Beyond Organic Natural Nappy Rash balm (£20.47, 50ml) can also be used for cradle cap and was very well absorbed and didn't create such an oily mess in Amber's hair. It was quite grainy but once rubbed in, it was fine and we both liked the smell a lot more than some of the other products we tried. Again this one helped a little with the cradle cap, but didn't clear it completely.
Finally, we tested Pot Of Gold Baby Balm (£8.20/£15.40, 50g/100g), which had a texture more like a lip gloss, so was quite greasy to apply, but once absorbed it was relatively discreet on Amber's scalp. The smell was delicious and we both enjoyed using this product – I have even taken to using it as a lip balm – so a good all-in-one product for mum and baby. Amber's cradle cap (as well as my dry, chapped lips) seemed to respond well to this balm and while currently it hasn't cleared the cradle cap fully, it has helped considerably. Out of all the products we tried, this one had the longest expiry date too, so will last long past the birth of our fourth baby – with or without cradle cap – in June.
Most of the products certainly helped ease the unsightly look of Amber's cradle cap, but usually once we stopped using the product, it returned or patches persisted. Hopefully the few products we found that did make an improvement will continue to clear the problem up.
However, what is fairly obvious from our testing is that there is a huge gap in the market for a non-oily cradle cap treatment!
Back to personal and skin care home