Tried and Tested Skincare Products
Doggy Wash and Go ...
It's not only humans who can benefit from some natural skincare! Kelly Rose Bradford – with the help of guinea pig Matilda – puts a couple of free from canine grooming products to the test.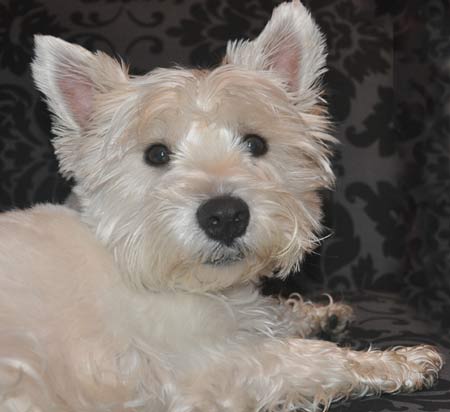 As the owner of a West Highland white terrier – a breed noted for their skin sensitivity and allergies – I was interested to try Scruffy Chops Scruffy Chops Zest in Show natural mineral dog shampoo (£8.99, 250ml) and Scruffy Chops Muddy Marvellous natural conditioner for dogs (£9.99, 250ml).
Matilda is two and a half, and is bathed regularly at home in between dog groomer visits – usually using baby shampoo or a pet shop own label gentle cleanser for white haired dogs.
Being white, her hair obviously gets very dirty, very quickly, and it can take a couple of rinse-and-repeats to get her looking really clean. I always use conditioner on her because of the make up of her coat – a more wiry top layer with softer fur underneath.
Matilda hates being bathed, and to be honest, whatever products I use, it is never a pleasure. Armed with the Scruffy Chops products, my son and I (for bathing her is always a two-person job) put the shampoo to the test on a day she had rolled in fox poo – always a challenge to get clean and fresh smelling after that!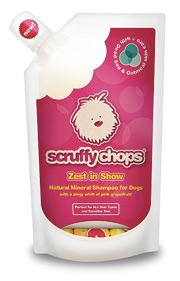 I was not keen on the pouch style packaging of the products; when wet, they became very slippery and were tricky to pour out without dropping the packet – not ideal when trying to control a wet dog.
The shampoo promises a 'zingy whiff of pink grapefruit' and it did not disappoint on that front – the aroma was gorgeous and very grapefruity. It also contained Dead Sea minerals, oatmeal, aloe vera, vitamin E and pro vitamin B5. The parfum (fragrance) ingredient is described as 'allergen free'. I found it to be quite low lathering and needed a fair amount to get Matilda really soaped up, but she was clean after just one application.
The area round her eyes, where I have to wash thoroughly because of tear-stains – is always a worry when shampooing, but she didn't flinch or behave as though the product had stung, which she has with other brands. Her tummy and nipples – which are shaved by the groomer and can be prone to slight irritation – were also smooth and free of redness.
With the conditioner, again, the packaging was an issue – slippery dog, slippery pouch equals wasted product and mess. The conditioner itself had a thick, creamy consistency, and worked well into her hair. Its active ingredients, Dead Sea mud and shea butter, made it smooth and silky to the touch once it was worked in. It didn't smell as nice as the shampoo, which was a shame as obviously the conditioner smell is the one that lingers on the coat post-bath. I would describe it as having quite a medicinal aroma and would have
preferred the grapefruit fragrance to have been the lasting one.
Overall, I think these products would be best purchased as a gift for a dog owner – the quirky packaging makes them eye catching and they would be a fun present in a pet hamper for a new doggy parent. Sadly for me, the cute packaging also made them impractical, as did the size – I usually buy 500ml- or even litre-sized bottles of shampoo.
The fact they are 98% natural and packed full of skin friendly ingredients is great, though, and they left Matilda's coat looking clean and bright. Change the quirky packaging and make the conditioner smell as lovely as the shampoo and I would be tempted to use again!
Scruffy Chops shampoos and conditioner are available from BigGreenSmile.com. The shampoo is also available in 'Rhubarking Mad' (rhubarb and custard) and 'Sugar Doggy' fragrances. See the site for full ingredients listings. The products are free from SLS/SLES and parabens.
More tried and tested freefrom personal and skin care products
Back to personal and skin care home