Tried and Tested Eczema hero products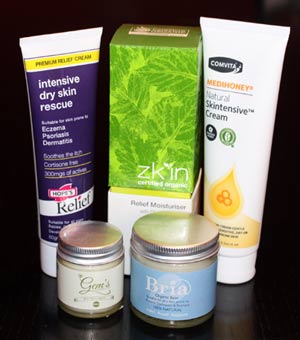 Our Problem Skin category in the FreeFrom Skincare Awards is popular with entries every year, and we always allocate the products to Beauty Bible testers with troublesome skin – typically eczema - to see what difference the products make to the health of their skin, if any. Here are some accounts of how our testers got on with five of the balms and creams in the 2015 testing!
Bria Organics, Relief Repair Replenish Balm (£12.95)
"Easy to use as it melts onto your fingers. Very versatile: I put it on patches of eczema, heels, cuticles, elbows and also on my son's eczema patches. I found it pleasant to use but more to the point - it worked well.
"I have eczema on my feet and after using the product my skin felt calmer. There was no real fragrance to the product which is perfect for people with eczema. It is a real multi-purpose product, I used it on the eczema on my feet, as a lip balm and on my dry cuticles. The eczema is generally quite red and angry looking and I hate wearing sandals because of it. I could see an improvement after only a few days and whilst the skin is still rough, tmy feet no longer look red and angry and don't feel tight and sore, so I have now bought a pair of sandals to wear! The transformation is incredible. I have tried many creams over the years and gave up in the end as nothing seemed to work. I can't believe how effective this balm is and best of all it is full of natural ingredients. The pot doesn't look anything special but it contains magic! Much more effective than the steroid creams prescribed by the doctor."
Comvita, Medihoney Natural Skintensive Cream (£8.99, 50g)
"I used this for my dry hands and dry prone-to-eczema areas. I also used it on my daughter's patch of itchy skin on her arms and torso which left her feeling better. It has a light, slightly soapy scent and rich texture. I liked it. It absorbs quickly and efficeintly. I found it soothing. My daughter liked it. This is a good all purpose balm. I also tried it as a facial moisturiser and it worked well. I would buy it. This would be a good cream to pack in my holiday bag for all the family."
"After first use my skin felt slightly smoother and less dry. There is next to no fragrance and the texture was gentle enough to be used on my face. Day to day it helped improve specific dry patches. After a month a few dry patches had almost vanished and others were much improved. My skin felt better and looked less flaky or red."
Gem's Natural Skin Care, Gem's Dry Skin Balm (£12, 60ml)
"Skin condition has really improved - sore dry patches and spots from in grown hairs are healing, flaky, scaly dry skin has all gone, comfort and skin health have been restored. My skin no longer feels parched tight and irritated. This product delivered all that was promised it cleared up several skin problems that I had within one month of testing."
"My skin felt soft and moisturised after the first use and something amazing happened…the itching stopped completely almost straight away! I couldn't believe it! The moisturising effect lasted hours too, which I loved. It smelled lovely and flowery. This particular flare up has been ongoing for almost two years and in a matter of a few weeks of using this balm, I can finally wear a skirt again without embarrassment! My skin is finally almost clear for the first time in almost 2 years thanks to this. The scaliness has almost gone, as has the redness, and the irritation is finally under control. I'm amazed! My skin feels moisturised with hardly any flakiness left. I think it has all been helped by the itching being brought under control though.  It is amazing stuff and delivered far more than I imagined it would."
Hope's Relief, Intensive Dry Skin Rescue Cream (£16.20, 60g)
"It has a rich creamy texture which spreads on skin well, including hands. It worked well used at night since the cream was thick enough and sank in fairly promptly. I used this after washing my chapped, eczema-prone hands with NHS standard soap at work and was really impressed with how intensely moisturising it was. It definitely improved my skin's condition; my hands were notably less chapped and my eczema has calmed down. Dry patches on my body are calmer and less inflamed, and overall less flaky as a result. The inflamed areas reduced after a month, and were less itchy and dry. I would buy this product again as an alternative to steroid cream and hand cream; I felt it moisturised very well but also reduced inflammation of problem areas."
"This cream is a tiny miracle and within 24 hours, my sore itchy eczema that I get around my collar line was soothed, the itching ceased and the damaged skin was healing nicely. The texture is a medium weight cream which is easy to apply quickly and evenly. There was a dramatic improvement in the irritation level of my skin. At the first sign of any irritation I would apply this cream and it stopped the cycle of scratching and damaging the skin so I have a lot less visible redness and roughness. Where I normally have rough and scaly red patches I now have silky, even toned skin which will give me confidence for the first time in years to bare the skin this summer. Would I buy it again? I've already bought three!"
Zkin Relief Moisturiser (£29.95, 50ml)
"I used this on my son (age 8) who has severe atopic dermatitis. This is the only product that I have ever encountered that removes the itch, moisturises and seems to clear the open sores.  We didn't notice an immediate difference on application, but the next morning: Oh boy! My son's skin was soft, smooth and the angry red of infected skin was significantly reduced. The product has a faint almond scent, but it is subtle and I presume this is because there are no deliberate scenting agents. The texture is very light and creamy rather than oily - an absolute pleasure to use - it spreads across the skin well, and is absorbed quickly. As long as we used the cream, the inflammation on the skin was significantly reduced, with the spots and scabs reduced in size. It didn't sting, and for once there was no arguments about application. My son's skin feels softer and looks less inflamed. The key (I think) is that somehow this cream reduces the itch and takes the heat out of the inflammation. This product delivers beautifully - it actually does what it says on the box! For me and my family this is a miracle product. In fourteen years of dealing with atopic dermatitis and eczema, no skin product has really come close to the beneficial effects of this moisturiser. As well as using it on my son, I also used it on my teenage daughter who has an allergy related rash on her torso; she had been tearing at her skin (scratching until welts and blood spots appeared). One application of this cream, and she completely stopped scratching! Quite amazing. The ingredients are lovely - completely organic and natural, and the feel of the cream is amazing - so light and delicate that it's a surprise it is as effective as it is. Nevertheless, given it's efficacy I cannot mark it anything less than a 10 out of 10."
More tried and tested freefrom personal and skin care products
Back to personal and skin care home