Tried and Tested Skincare Products
Facial Wipes
Stella James reviews five of the finest on the market.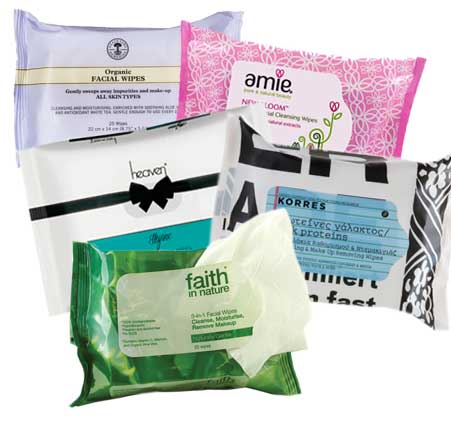 Heaven EllaJane Celebrity Skin Wipes (£7.30 for 30 wipes)
These are really large and thick organic cotton wipes, probably the thickest I've come across and about twice as large as most wipes. Despite this they are still soft enough to remove all makeup – even eye makeup – easily and without rubbing. They give a really deep clean, leaving the skin oil-free without drying it out at all. These things make them worth the extra cost. The company claim that for extra cleansing they can be used with other Heaven cleansing creams "making them the first ever facial wipes to use with your daily skincare routine"; I didn't try this, but can believe it as they do feel very strong and are still quite moist even after use, but should I need extra cleansing? They have a lovely peppermint fragrance that's quite refreshing and doesn't sting. The only negative as far as I can see is that the packaging seems excessive and doesn't really live up to the 'glam' product name.
With apple, tea, aloe and mint extracts.
Amie Skincare – New Bloom Gentle Facial Cleansing Wipes (£3.49 for 25 wipes)
The wipes have a lovely, soft texture that makes it easy to get into every 'nook and cranny'. They easily remove makeup, dirt and grime and as they are extremely moist you only need one wipe and don't need to rub too hard – sometimes a problem with wipes, especially those referred to as "gentle". These leave skin feeling really cleansed and toned. They don't dry out, in fact they seemed to get moister towards the end of the packet. They have a great fresh smell, although I couldn't put my finger on what the fragrance was. As a plus point they are biodegradable but unfortunately, though the packaging is really attractive, I don't think it can be recycled. Overall, very good value for money.
With pomegranate, green tea and cranberry; free from parabens, petrochemicals, animal products, sulphates, GM.
Faith in Nature 3-in-1 Facial Wipes (£3.25 for 25 wipes)
These are good size wipes that are moist and gentle on the skin, whilst still removing all traces of makeup and grime. Think they would also be great as just a freshen up, say, after the gym. They remained moist throughout. Skin feels nicely cleansed afterwards and not too dry. Although they don't dry out the skin, I don't really think they moisturise either (which is one of the 3-in-1 claims) and most skin types would probably need to use a light moisturiser too. The fragrance is unusual; it is quite fresh and citrusy, but tends to be a bit 'antiseptic' smelling too, though this doesn't linger after use. They are 100% biodegradable, which is a good selling point and not always the case with facial wipes in general, even natural or organic ones. However, I don't think the packaging can be recycled. Overall, I think these a good value for money.
With aloe vera and lime; free from animal ingredients, parabens, SLES, alcohol, artificial colours and fragrances.
Neal's Yard Organic Facial Wipes (£5.50 for 25 wipes)
Lovely cleansing facial wipes that are gentle and cooling too. The wipes were moist enough to get makeup and grime off and stayed moist right through to the last wipe. They are reasonably thick wipes that feel very soft and quite luxurious against the skin. This means you can use them all over the face, including the eyes and they managed to get mascara off well too without too much rubbing. They didn't leave any irritation or skin tightness. The wipes claim to be moisturising too, but I think most people would need to use some moisturiser afterwards. They have a nice, calming scent but this doesn't linger. They are quite a bit more expensive than many other wipes on the market, but great for a special treat if you're on a budget. Wipes are 100% biodegradable.
With aloe vera, lavender and white tea; free from parabens, silicones, phthalates, GMO, mineral oils, EDTA, synthetic fragrances/colours.
Korres Milk Protein Cleansing Wipes (approx. £7.00 for 25 wipes)
These soft but quite thick wipes are really effective at removing makeup easily without having to rub. They have a lovely texture and are much stronger than they might seem. They are also great for cleansing and moisturising. The fact they are so hydrating makes them ideal if you're in a hurry as there's no need to moisture after. They have a creamy, milky fragrance that's much nicer than it sounds, though they don't really leave skin feeling as 'fresh' as some wipes. They are very gentle and can be used on eyes to remove mascara too. There's a couple of negatives though; at the price they are quite a bit more expensive than most wipes, which may put you off if you're on a budget and use them morning and night. Also they aren't biodegradable.
With olive, wheatgerm, milk, macadamia and corn oils.
More tried and tested freefrom personal and skin care products
Back to personal and skin care home