FreeFrom Heroes from the 2015 FreeFrom Skincare Awards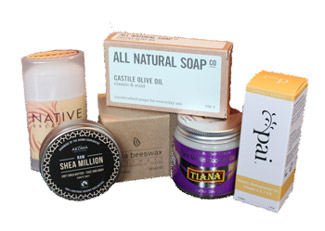 FreeFrom Heroes
Every year in the FreeFrom Skincare Awards we receive a number of entries with very few ingredients – and therefore which boast excellent 'free from' qualities. These products are particularly useful for those with sensitivities to multiple skincare ingredients. So here, starting with the inaugural winner of our FreeFrom Achievement Award, we round up some of our tester comments on a selection of the shortlisted and winning products from the 2015 Awards, in the hope you may find something worth trying out.
All Natural Soap Co, Castile Olive Oil Soap (115g, £2.95) (Silver, Hard Soaps; Gold, FreeFrom Achievement)
Ingredients: sodium olivate (from Greek and Italian olive oils), water, vegetable glycerine
"The soap has a faintly spicy scent to it which I think is from the olive oils. It's lovely. The soap lathers up well and efficiently to a light foam. I used this all over my body, my hands and even my face in my morning shower. It cleanses effectively but is very gentle. It leaves my skin feeling cleansed and is not drying. The soap has held its shape well and hasn't broken or cracked. It promises to be a mild, everyday soap and it is exactly that. I love the simple cardboard box that the soap comes in, it looks really good and adds to the artisan feel. The instructions make it clear that the soap can be used on the face, body and even on clothing, which is not something I would have thought of using it for. The ingredients really could not be any purer: water, olive oil and glycerin. It really is all natural. I love the simplicity."
"Fragrance is minimal - but I would expect this from the type of soap this is - entirely natural, mild and made from olive oil. the lather was mild, but my skin felt soft and clean post-use.This soap is an effective cleanser and removes most smells (food related) from hands beautifully. I didn't need to use cream afterwards, which is unusual for me after using a hard soap. My skin felt clean and soft but not dry. The bar reduces more quickly than some other natural soaps I have used, however this is a small price to pay for an effective hard soap that cleanses well yet doesn't dry out the skin. Delivers cleanliness and smoothness in one fell swoop."
Pai Skincare Rosehip BioRegenerate Oil (Silver, Oils and Serums) (£22, 30ml)
Ingredients: rosehip CO2 seed extract, rosehip CO2 fruit extract, vitamin E, rosemary leaf extract.
"Skin felt super nourished and cushioned. Looked immediately brighter like I had been for a facial. I couldn't stop touching my face! At night I didn't feel I had to moisturise on top of this. Beautiful fragrance with a hint of rosehip. Very rich in colour and texture and felt luxurious to use. Much more indulgent than other rosehip oils I have used and it didn't have a super greasy feel to it. Loved it. Make up looked fresher as it helped dramatically with my super dehydrated cheeks. Was a multi tasking oil which gave intense comfort and hydration. The dehydration I was suffering with on my cheeks was improved and skin felt super soft. I looked forward to using this, it was a really indulgent treat. Love the brand and what it stands for. It's great there is a luxury brand creating products specifically for sensitive skin. You can tell these products have been created from the heart and with real passion. Feel the product is great value for money as you only needed a couple of drops. Since I have been using this I couldn't live without it. Gorgeous."
"My skin looked glowing and soft, without looking too greasy. The fragrance was fairly subtle. It wasn't my favourite, but not offensive and it felt natural, which I liked. The oil sank in far more easiliy than I was expecting, meaning I could put make up on after a few minutes.   Performed well. My skin feels softer and looks healthy and radiant, which is great.  I like the packaging and the bottle - particularly the pipette to ensure you can get a couple of drops each time.  It looks like an expensive and a luxurious product. It's value for money, as you only need to use a couple of drops and so it will last ages.  I used it alone and added it to my moisturiser for an additional boost."
Akoma Shea Million (Bronze, Problem Skin) (50ml, £5.18).
Ingredients: raw organic fairtrade shea butter.
"Skin on my feet/heel felt really soft and smooth after first use, cracks on my heels appeared smoothed immediately. The texture was of a thick, solid, creamy balm. I liked it a lot. Nice little tin, only one ingredient, fairtrade, goes a long way, good value for money, great little product!"
"My skin immediately felt deeply moisturised, soothed and less itchy. It looked smoother and less flaky. The fragrance is light and reminiscent of chocolate. It does not linger long on the skin. The texture was smooth and non-greasy. It was soft and melted onto skin easily without any grittiness. The product perfomed exceptionally well on a day-to-day basis - my skin felt deeply moisturied, calmed, and less irritated. As well as evening out my skintone and hydrating dry/flaky patches of skin and soothing eczema, it also worked to calm inflamation of insect bites and rashes. My skin's condition improved dramatically. Patches of eczema disappered and my skin looked hydrated. My skin tone appeared more even. My skin no longer felt tight, sore, or sensitive. Worked exceptionally well as a general moisturiser and targeted a number of issues by healing eczema patches, soothing insect bites and rashes, preventing razor burn, and preventing and healing blemishes. I would definitely buy and use it again. It was outstanding."
Tiana Pure Virgin Coconut Oil for Dry Skin (100ml, £7.99) (Bronze, Family Skincare)
Ingredients: 100% raw organic cold pressed virgin coconut oil
"Very versatile. I used it on dry patches on my elbows and hands and dry patches on my children's skin. My wife used it to remove her makeup. It has an oily texture which was good for hydration. I found it soothing. My children liked it. No irritation. It worked well. It is a handy balm for any family dryness. I even used it to remove face paints on my children. It removed it well and left their skin soft. It is useful and I would rebuy."
"My skin felt well moisturised but a bit greasy when I first used this, it made my skin feel very comfortable and took any itchiness away. The oil is solid at room temperature but melts as soon as you touch it into a smooth, luxurious oil. I like both the texture and the lack of fragrance. I especially like how multi tasking this is, I use it in my hair, on my feet, on my face, on my lips and on my cuticles. Every dry area I put this on has improved over the month, dry patches have disappeared and it's so safe that I will use it anywhere without any worries."
"I used it on my sore chapped skin around my mouth and my children's sore/wind chapped knuckles. Texture was nice and smooth. Good to have a product so smooth without beeswax.  Kids liked the fact that it wasn't scented. Great value for money - I expect the pot would last for ages. I like the labelling and the ethics of the company."
Native Unearthed Crystal Deodorant (100g, £6.49) (Bronze, Fresh and Fragrant)
Ingredients: Potassium alum
"A bit strange getting used to wetting the tip before use, but glided on well when wet. There is a absolutely no fragrance, which did unerve me a bit as I'm so used to having deoderants with scents. Dried quickly, about the same time as normal deoderants. On a standard day (no additional exercise) it worked suprisingly well, I felt dry, there was no odour … still in two minds about it having no fragrance as I do like to smell nice, but the way it worked did win me over. It has great staying power, it seemed to work longer than a regular frangranced brand that I use. No irritation at all. Was gentle on my skin, no stinging sensation after shaving."
"Very easy to use, I just didn't dry under my arms after a shower. No fragrance which is what I want. It does dry suprisingly quickly. It was very effective. I am not a heavy sweater and my clothes all passed the sniff test! At no point did I feel 'wet' under the arms so. It worked all month, the skin under my arms is soft and smooth.  My clothes haven't got a stain on them when I take them off.  It did exactly the same job as my old deodorant without damaging my clothes. I will definitely stay with natural deodorants.  This stick will last for months so is very economical, it is better for my health, my clothes and the environment. I just loved it as it is. It is astonishing value for money because it will last for so long."
Kytio Tilia Beeswax Ointment (Shortlisted, Family Skincare) (50g, £17.50)
Ingredients: olive fruit oil, beeswax, tilia europea flower extra
"A versatile ointment. I used this as a baby bottom cream, as a hand moisturiser, as a facial moisturiser, and on insect bites. The balm does smell of olive oil to me; my children didn't like the smell but did find it an effective moisturiser. This product was an all-purpose balm, it soothed dry and irritated skin. Only had 3 ingredients which I was really impressd by."
"My husband used this for his dry, cracked knuckles and extremely dry skin and eczema patches. I didn't like the smell, but my husband didn't mind it at all. He loved the texture as it is silky and easy to apply. His hands are in the best condition I have seen for years as a result of using it. Impressive. Definitely feels like a natural medicinal treatment rather than a beauty product."
"Was very effective on a slightly sore baby's bottom, chapped lips and very dry skin on the body and hands and mild eczema. Smell was quite earthy and invigorating. The texture was quite greasy/oily which I liked less. It worked best when not rubbed in too much and left to sink in over time. It wasn't quite enough for worse cases of eczema but stopped mild eczema getting worse if applied soon enough. Very impressed with its effect on nappy rash."
More tried and tested freefrom personal and skin care products
Back to personal and skin care home