Tried and Tested Skincare Products
Give them a Hand!
We had such an interesting selection of hand creams entered into the FreeFrom Skincare Awards 2013, that we thought we'd do a round-up of the top five performers – with a selection of our testers' comments.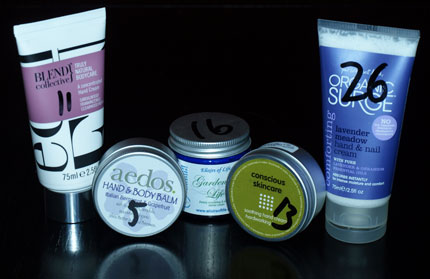 Here they all are, complete with their judging numbers!
Aedos Hand & Body Balm (Italian bergamot and grapefruit) (£9, 45g) – shortlisted
Description: This traditional balm incorporates calendula with organic shea butter with rice bran oil and local beeswax. Calendula has been prized over the centuries for its healing properties and is often used to sooth dehydrated and irritated skin. The balm is designed to provide a moisturising boost to your skin and leave it feeling velvety and soft. Italian bergamot and grapefruit essential oils are blended for a fresh and uplifting scent.
Testers' Comments: "I loved the fragrance. It smelt of citrus fruit as expected but was not overpowering. Reduced the papery look to my hands and skin felt less rough and itchy… Gave my skin and nice sheen and cleared up dry skin… It definitely helped the dry patches between my fingers – I saw a huge improvement… The packaging was beautiful and the ingredients clearly listed. Given the quality of the ingredients I felt it was good value for money… has a thick buttery consistency and it melted into my skin… Within 12 hours of use the cracks and red inflamed look of my knuckles had disappeared completely. I am extremely impressed with this balm… amazed at the results, absolutely delighted… packs a truly powerful punch – what a winner!"
Blend Collective Unwinding Hand Cream (£12.50, 75ml) – silver medallist
Description: An unwinding blend of sandalwood, frankincense, cedarwood and neroli essential oils carefully selected for their deeply relaxing, sultry tones combined with hydrating aloe juice, cacao butter and sea buckthorn.
Testers' comments: "My hands did feel very much softer and more moisturised… my hands had been extremely dry, red and itchy due to the bad weather and this cream definitely improved the condition of my skin… I like the packaging a lot, it looks expensive and special, if you were giving it as a present… I like it a lot… Dry patches are gone, leaving my hands feeling soft, smoothly, and silky… Smells really expensive, like a spa treatment … I'm a fan of green, woody smells so the cedarwood and sandalwood were a great touch … I've not seen a hand cream with this kind of twist top. It worked really well, helping to ensure I didn't use too much and minimising mess (very important for something that's in my handbag...)… I will definitely be buying it!"
Conscious Skincare Soothing Hand Cream (£14.99, 50ml) – shortlisted
Description: Ultra-soothing organic hand cream carefully created to help replenish and restore hard working hands. Organic avocado oil will nourish your skin and give it a wonderful lustre, whilst organic geranium will leave your hands feeling lovely and supple.

Testers' Comments: "Almost like a mousse, which melted on to the skin… Skin softer straight away, very nice fragrance, very calming, strong lavender scent … Lovely rich consistency, sank in very easily… Was suffering with very dry, cracked hands before I started using this cream and provided some comfort … Noticed my cracked knuckles healed up and dryness eased dramatically … My hands and nails are quite dry and this cream made them look supple and more soft over time … Soothes tired hands – a simple efficient tub and product … Clearly labelled, easily decipherable ingredients."
Elixirs of Life Gardeners Life Hand Cream (£8.99, 60ml) – bronze medallist
Description: A deeply nourishing natural hand cream. Quenches the thirst of dry skin, chamomile and marigold soothing for chapped hands, acts as a light, non-greasy barrier cream, leaving the skin feeling deliciously hydrated. Containing cocoa butter one of nature's most effective emollients, rich in antioxidants with added jojoba oil to rejuvenate the skin.
Testers' Comments: "After using this product several times the dry skin on my fingers reduced and the itching decreased too. Overall my hands felt softer. This product delivered exactly what it promised … Rich barrier cream without a greasy finish. Really easy to rub in quickly and a small amount went a long way. My skin felt instantly rehydrated and smooth. The appearance also improved, giving a more youthful dewy finish to my skin. This was beautiful. A really organic fragrance that wasn't too feminine or overpowering … . You could smell aromatic tones of the essential oils. My nails were less flaky and become much stronger. The skin around the nail and the cuticicle also appeared improved… Gentle, but incredibly effective."
Organic Surge Lavender Meadow Hand & Nail Cream (£4.25, 75ml) – silver medallist
Description: Lavender Meadow Hand & Nail Cream has an intensive moisturising action and is quickly-absorbed to provide comfort and hydration. It works to prevent moisture loss to leave hands softened and rejuvenated.
Testers' Comments: "The consistency was rich and creamy and was very easily absorbed. My hands felt very soft after using it for the first time. The smell was gorgeous … I found that with regular use my hands became soft and smooth – just as they were when I first put on the cream … One of the nicest handcreams I have used… Wonderful value for money and an attractive tube … I think the addition of the geranium added something a little different to the fragrance … It smoothed and calmed dry and irritated patches of skin. Improved skin around the nails/cuticles by making it more moisturised … Gorgeous lavender scent … Great for having in handbag … Totally delivers on what it promises."
More tried and tested freefrom personal and skin care products
Back to personal and skin care home