Tried and Tested Skincare Products
Mum's Secret Soothe & Repair Moisturising Cream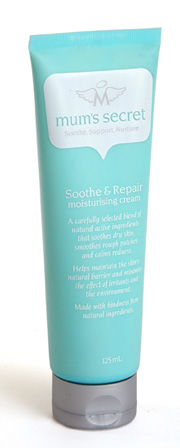 Distributed by Anjique in the UK, this New Zealand cream helps 'soothe, support, nurture' for 'bump, baby, beyond' – in other words, then, it's a family, multi-purpose cream which can help with dryness, suppleness, elasticity and general moisturising care during pregnancy, for baby and for sensitive or eczematous skins of all age
Key ingredients include colloidal silver, aloe vera, calendula, chamomile and plant oils such as evening primrose and apricot kernel, as well as jojoba, lavender and manuka.
We gave the product to mum Hannah and her two-year-old son – both of whom have patchy dry skin and eczema – to trial for six weeks. This is what she had to say.
"Mum's Secret is a non oily cream, of fairly thin consistency which is very easily applied and absorbs quickly so you can carry on using your hands soon after application. Its fragrance isn't overpowering and is natural rather than artificial, although it does remind me of the smell of playdough. I used the cream both on me and on my two year old and we both have very sensitive skin and were fine using it without any problems.
"I didn't notice much change to my skin over the course of using the product. It does make a dry area of skin less dry after initial application but then within a few hours you need to reapply – the directions do suggest you can massage liberally into affected areas up to seven times daily. On initial application the product feels cooling and soothing for the first few minutes. I used it on my itchy legs and it instantly cooled them and stopped them itching, however within 30 minutes they were itching again. I think the product would be great as an after sun lotion due to the aloe and its soothing properties.
"I have eczema as does my 2 year old and I thought this cream might soothe some of the dryness that accompanies it but actually on my eczema patches it didn't really "soothe" however it did make it less dry in the short term. My son's eczema didn't change at all with the cream and it was frustrating to apply something that didn't make a difference.
"I like the product in terms of consistency, application and smell however I felt that for the type of dry skin I have and for my itchy legs it didn't really help it just had an initial soothing effect that was short lived. I could see the product being popular and perhaps more effective with people who have one-off dry skin problems such as sunburn or dry skin due to pregnancy or other short-term concerns.
"I like that the product uses lots of natural ingredients such as aloe and lavender and the product smells like a natural product too. I like the packaging its really simple and recyclable too which is great!"
As far as the labelling go, we found the ingredients (white font) small and difficult to read against light turquoise background of the product on the 50ml sample.The product has reasonably good 'free from' properties, however: there are no parabens, petrochemicals, mineral oils, nut oils, or fragrance, in the product. There is beeswax, so is not suitable for vegans.
Worth a try if you've tried other creams without success, as different skins have different needs.
Prices are £12.60 for 50ml / £20.45 for 125ml. You can order from www.anjique.com.
More tried and tested freefrom personal and skin care products
Back to personal and skin care home