Tried and Tested Skincare Products
Tisserand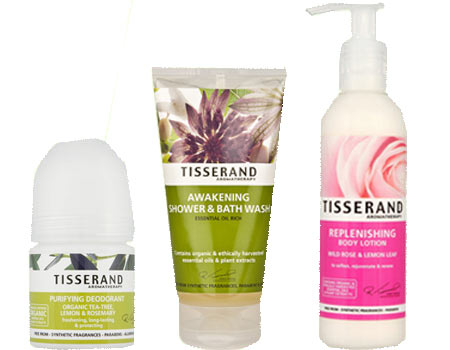 Tisserand offer 100% natural skincare products based on aromatherapeutic principles, using ingredients which are organic where possible, and always mild on the skin.
Over the last month, our guinea pigs have been putting three of the Tisserand products to the test. Our testers were FoodsMatter.com's Cressida, 35, who has dry skin and occasional problems with hand eczema; writer Thelma, 37, who has normal skin and patches of dry eczema, and FoodsMatter.com's Katherine, 40, who has no problem skin issues. This is what they had to say.

Tisserand Awakening Shower & Bath Wash (175ml, £6.50)
Katherine said:
"I wouldn't describe the scent as 'awakening' – it is warm and spicy, a lovely natural blend with citrusy overtones, quite a woody unisex fragrance. It foams a lot more than other natural products I have tried. It describes itself as 'essential oil rich' and this is what I really like about this product. My skin tends to be quite dry, especially after a bath and I am generally too lazy to moisturize, but using this I didn't really need to. My skin, even after shaving my legs, felt lovely and not at all dry but not at all greasy either. With conventional products I often get a slight redness after using but I had no reaction at all with this. I would buy it again and recommend it to others."
Thelma said:
"I liked this product very much, although I did not quite get the 'awakening' element! I found the essential oils (bergamot, lemon, grapefruit, rosemary) far more relaxing than awakening, and after one use in the shower on a sponge, I used it exclusively for the bath. The oils meant that it was effective as a foam for leg shaving as well. I suffer from stress-related eczema and like oily bath products – this was not a traditional 'oily' body wash in the sense that it did not leave a film/residue on the skin (or the bath), but it was very luxuriant and moisturising. The texture was good and suited my skin, and the moisturising effects were instant – soft, smooth skin after each use. My only issue was the size of the tube – 175ml is really only going to last a fortnight of baths!"
Tisserand Aromatherapy Replenishing Body Lotion Wild Rose & Lemon Leaf (200ml, £9.00)
Cressida said:
"The oils and shea butter in this creamy, indulgent moisturiser make it feel at first more like a skin treatment than a moisturiser. Made using rose oil, rose geranium oil, lemon leaf oil, shea butter and pink grapefruit oil, all either organic or ethically harvested, the fragrances that dominate are the rose and lemon leaf, and the grapefruit and geranium undertones revitalise the senses. After application, the cream absorbed into my skin leaving a thin protective layer on my hands, but not on my arms and legs – this really suited me as my hands are harder to keep soft, and tend towards dryness."
Thelma said:
"This is packed with lovely essential oils and the fragrances pack a punch – the rose being dominant. I used this both after the Awakening Bath and Shower Wash, and independently as a body and hand moisturizer. The texture was a little on the thin side – I like a thick product – but to be fair it's a body lotion not a butter. I think my issue was mainly when using it on my hands and feet, where I think a thicker texture would give a more satisfying application experience. The fragrance was divine and long lasting – I dispensed with my usual perfume as the rose was lingering, not overpoweringly, but in a fresh, just-bathed way. It did not irritate my sensitive areas as some products do – the eczema I suffer with behind my knees can become inflamed when anything perfumed hits it – but this lotion merely soothed. Ditto my thighs, which in hot weather can become rashy and sore."
Tisserand Purifying Deodorant (35ml, £5.75)
Katherine said:
"This has a pleasant, fresh scent. You can pick out the tea tree, which gives it a slightly minty antiseptic smell – which adds to the feeling of freshness. I used it during the recent hot weather and it coped very well – the scent lasted all day but is not so strong that other people can smell it. It did not sting at all even on freshly shaved armpits. I really like this and would definitely buy it again."
Thelma said:
"This is slightly larger than your usual roll-on, and gives off a lightly medicinal, antiseptic smell, no doubt because of its active ingredients of tea tree, rosemary, lemon and sage. Whilst as a product it did not suit me – in fact, my under arm area became a little tender after a week's use – the design – as in its size – was fabulous: the larger roll-on applicator took in the entire armpit in one roll. I found its deodorising properties hit-and-miss – for day-to-day use, it was fine, but it failed me after a run or work-out and actually made my (rather sensitive) pits a little sore when I broke sweat – but this only occurred on days I was active. On regular, non-exercising days, it worked fine, but the tight skin I experienced from it on work-out days put me off. Its medicinal smell was reassuring though, and a refreshing change from the usual 'girly' deodorants on the chemists' shelf."
Tisserand products only contain organic or ethically harvested essential oils, herbal extracts and vegetable oils and butters. All products are free from synthetic fragrances and dyes, chemical foaming agents, parabens as well as animal ingredients and animal testing.
Tisserand products are available from Boots, Waitrose, John Lewis, Lloyds Pharmacy and www.tisserand.com


Back to personal and skin care home