Tried and Tested Skincare Products
Witch Skincare and Anti-Blemish Cosmetics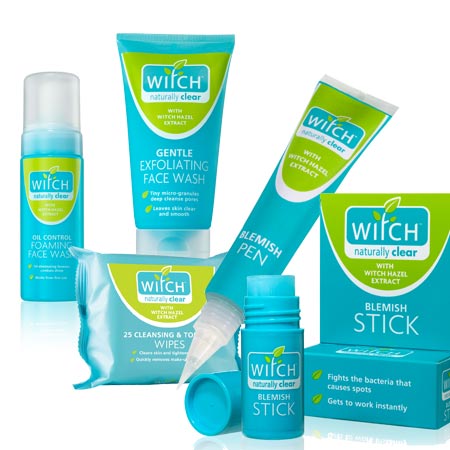 The Witch range of skincare and anti-blemish cosmetics was developed for oily / combination skin, and is both designed to cleanse, tone and deliver radiant skin, and prevent, target and conceal imperfections. And who better to test this witch hazel-enhanced range than our very own Hazel – regular tester, Hazel Davis? Here's her report.
I gave birth nearly seven months ago and when my baby came kicking and screaming into this world, my beautiful glowing pregnant skin bade a hasty retreat. This was partly because of the loss of lovely hormones but, I suspect, partly to do with the immediate return to my previously caffeinated form. So after a few months, standing in the mirror now with my gorgeous rosy-cheeked baby, my skin showed caffeine-ravaged pores and red bits aplenty.
It was time to do something about it in a way which didn't mean giving up my morning espresso. I had used (and liked) Witch products in the past but, as with much of my beauty regime, not with any consistency, so trying an entire product range is a bit of a novelty for me. However, as any fool knows, skincare products are best used all together.
I started with the Cleansing & Toning Wipes, perfect for a busy mum with minimal time to spend on her face. They are, as advertised, quick and easy to use and don't clump together like some wipes. The scent is pleasant but not overpowering and they retain their moisture even if you leave the seal slightly open (unlike some cheaper brands which dry up if you cough in the wrong direction). The wipes aren't as astringent as some witch hazel products either and can be used even when skin feels a bit tender.
The Oil Control Foaming Face Wash is less my bag as I always feel like I'm getting a bum deal with foam. It might just be my particular bugbear but I want something more substantial from a face wash, though I have no complaints about how it made my skin feel or the smell, which was pleasant.
I am more of an exfoliator girl so the Gentle Exfoliating Face Wash is more my cup of tea. I found the initial applications surprisingly oily, expecting less gloop and more exfoliant. But that's not to say it didn't work. My skin felt and smelt refreshed afterwards and I am sure I felt and saw a difference after a few uses, even if the wash-off process was longer than I would prefer.
One of the best Witch products for me is the Blemish Pen. I am a serial stare-in-the-mirror-in-horror-last-thing-at-night person and have to have something on hand to zap (or believe I am zapping) zits overnight. My current weapon of choice is a very expensive and slightly terrifying-feeling product which stings like billyo. The blemish pen on the other hand feels like it's doing good and not like I am being operated on.
Likewise the Blemish Gel, which is applied after washing. This makes skin feel taut and like nastiness can't get in, without making your skin feel as if chemicals are working their way into your blood while you sleep.
For someone as perennially obsessed with their skin as I am, makeup has to be super-strength for me to give it the time of day. Coverage is key. So I was pleasantly surprised at the effectiveness of the Anti-Blemish Tinted Moisturiser. I used a slightly darker shade than I usually would and it made the world of difference to me (had I used a darker shade in a less natural range, I might have ended up looking like David Dickinson). It applied nicely and lasted well. It's also nice to feel you aren't doing active harm to your skin when it's caked in slap.
I had little use for the Anti-Blemish Pressed Powder but liked the way it went on and was pleased with the results, though it could feel a little drying at times.
I have to confess that I don't think the Redness Relief Moisturiser did much for me and the green paste is slightly alarming when you apply it. But it might well work for someone else.
My favourite Witch cosmetic, however, is the Skin Clearing Primer. Intended for use before makeup, on its own it feels, well, like a primer should, like it's coating the face in something protective. I suspect it feels nicer than it looks as I didn't dare to just wear it on its own but when I did wear it I couldn't stop stroking my face. It did make makeup go on with greater ease and evenness.
My experiment with Witch makeup was surprisingly successful. As someone willing to spend a fortune on the right makeup, I had conditioned myself to believe that the more money spent the better the effects. But I say, with hand on heart, that I would gladly buy Witch makeup again.
For further information about the Witch range, see www.witchskincare.com. Available from Boots, Tesco and Superdrug.
Back to personal and skin care home